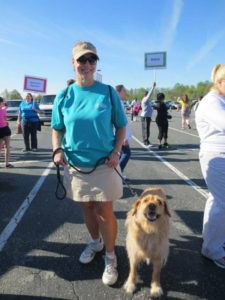 The Human Race has been around for roughly some 200,000 years. In Greensboro, North Carolina, The Human Race has been around since 1994 and is back live and in-person on April 2, 2022.
Of course, we're talking about The Volunteer Center of the Triad's annual fundraiser 5K where participants walk, run, or roll to support their favorite charity. After two years of being run virtually thanks to the pandemic – the event, now in its 28th year, moves to LeBauer Park in downtown Greensboro. In the past, the race has been hosted at the Greensboro Coliseum and before that, at Grimsley High School.
This event is supported by runners, walkers, four-legged friends on leashes, kids in strollers, individuals of all abilities, sponsors, wagon riders, wheelchair drivers, nonprofits, community members, restaurant owners, media, volunteers, and more. With almost 5,000 participants and over 100 nonprofits, the opportunity for exposure continues to grow!
Audrey McLaughlin, Director of Community Relations at The Volunteer Center of the Triad, is excited about the new location. The 5K route will make its way through many streets in downtown Greensboro's historic neighborhoods. As in years past, runners and walkers will travel the same route.
The Volunteer Center – Helping Other Nonprofits in the Community
"This is a huge community-wide peer-to-peer fundraising campaign," stresses McLaughlin. The Human Race is designed to encourage participants to inspire friends, family, and coworkers to give back. The goal is to join and to donate to support a nonprofit organization that they are passionate about. She points out that not only are the participating nonprofits getting financial contributions, but they are growing their brand and awareness within the community. This is an opportunity McLaughlin says is "priceless."
One of the unique aspects of the Human Race is that while it is put on by the Volunteer Center of the Triad, it is other nonprofits that benefit. Participants raise donations for their favorite organization or charity. As of the writing of this article, about 20 organizations are participating in the 2022 event. Even though the event takes place on April 2nd, fundraising continues through April 15, 2022.
The Volunteer Center of the Triad is a nonprofit organization serving Greensboro and the Triad. It is one of many Carolina Digital Phone customers with a story to tell. Part of the organization's identity is that they are a one-stop shop for promoting volunteerism, community, corporate philanthropy, and meaningful connections as a whole. The Volunteer Center serves dozens of other nonprofit organizations and charities throughout the Triad.
Fun for Runners, Walkers & Families
Bank of America is a sponsor for this event, as well as a host of local businesses. Runners in the 5K must pay an entry fee to have their results timed. Otherwise, the event is free to the public. Registration is available online until April 2nd. If able to, please register. This is so that organizers will have a better idea of how many participants to expect.
In addition to the run/walk event, there will be a lot of activities for families and children. This includes inflatables, a bouncy house, a slide, and a jousting area. Also on hand will be a representative from Dolly Parton's Imagination Library registering families and children to receive free books.
Every nonprofit that is participating and fundraising in the event will have signs. They will easily be able to accept donations during and after the event.
There will be a water station at the halfway point of the race/walk as well as free water available in LeBauer Park. Little Brother Brewing will have their Lawn Service kiosk open and will be selling coffee and pastries as well as other beverages. The event will take place whether rain or shine!
Even More Volunteer Opportunities At The Volunteer Center
While The Human Race is probably the most well-known event they put on, The Volunteer Center's MLK Day of Service is probably their largest yearly event based on the sheer number of people participating and the large number of events surrounding the event. Other programs the center offers include VolunTeen, Mentoring Matters, Reducing Hunger through Service, and Corporate Caring.
If you are looking for other volunteer opportunities, The Volunteer Center of the Triad has a wide variety of nonprofits available on its website. The week of April 18-22, 2022 is National Volunteer Week, so now is a great time to start volunteering!